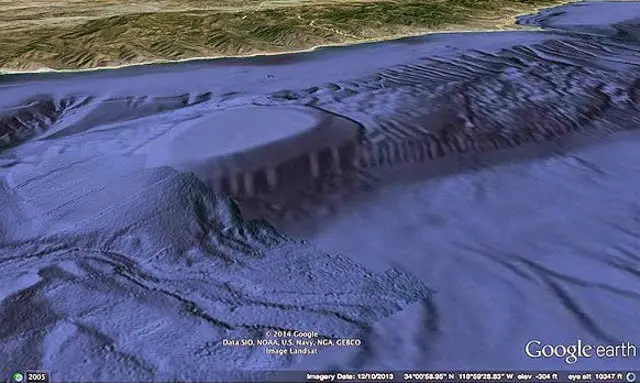 A massive underwater structure which looked like a secret UFO/USO facility was discovered 6.66 miles off the shores of Point Dume, Malibu, California. Could this structure be the reason for the mass UFO sightings off the coast of Malibu from the 1950's?
Enhanced Google Earth imagery of the submerged underwater formation which creates a plateau that measures 1.35 miles by 2.45 miles wide, does not appear to be naturally figured by the ocean water. The upper interior surface of the structure measures 500 feet across making it insusceptible for a nuclear attack. The entire ceiling of the mega-structure is reinforced by over 600 feet tall columns which creates an opening that is 2745 feet wide and 630 feet tall.
The location of the suspected UFO/USO base in Google Earth was discovered by Fade to Black hosts Dale Romero and Jimmy Church of Dark Matter Radio on the 12th of May 2014. The find was aired in Church's radio program the next day. The topic was posted on Facebook, twitter and other UFO websites. It became a widespread topic among UFO/USO fans.
The unknown structure has the potential to house nuclear sized submarines and other massive under water ships. The secret facility has remained elusive for many years and its discovery today might give strong evidence that would credit most UFO/USO activities in the area near Malibu from 1950's up to present.
Skeptics say that the image is misguided to be a secret underwater base and the fact that the image is available in Google Earth does not make the structure very secret.
Many still believe that the underwater structure is a secret alien headquarters that might still be operated today. Some are of the opinion that if the government is behind the massive structure, it would just be fair enough for us to deserve an explanation.